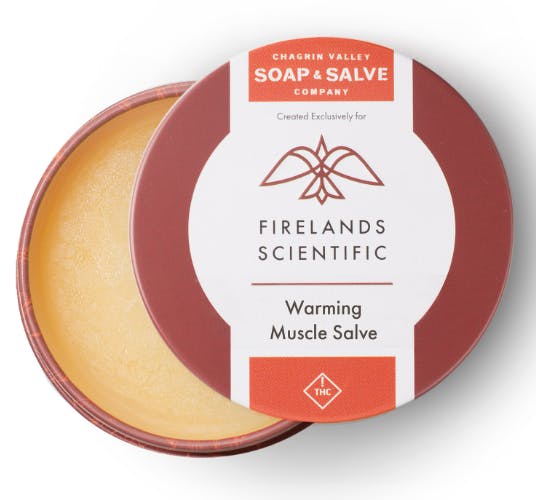 Brand: Firelands Scientific
1:1 Warming
THC:160mgCBD:160mg
160 mg THC - 160mg CBC Salve INGREDIENTS: • Organic Extra Virgin Olive Oil, Organic Sunflower Oil (infused with Organic Lavender, Organic Rose, Organic Chamomile, Organic Lemon Balm, Organic Borage, Organic Hops, Organic Mugwort), • Organic Beeswax, • Organic Lavender Essential Oil, • Organic Ylang Ylang Essential Oil, • Organic Orange Essential Oil, and • CO2-extracted Cannabis Oil. HIGHLIGHTS: • Developed in Ohio in Partnership with Chagrin Valley Soap & Salve Company • USDA Certified Organic Ingredients • Sustainably Produced • Cruelty-Free • Ethically Traded Developed in partnership with Chagrin Valley Soap and Salve Company, a family-owned and operated company located in Solon, Ohio that has established itself as one of the leaders in the natural, organic personal care industry. Chagrin Valley Soap & Salve Co. crafts high-quality, skin and hair care products made with ingredients that are USDA Certified Organic, sustainably produced, cruelty-free and ethically traded.
About the brand :
Firelands Scientific
Firelands Scientific is a cutting-edge medical cannabis company that combines the best of nature, science and technology to provide patients with natural alternatives to modern synthetic drugs. Our rigorous cultivation and processing standards ensure consistent and reliable cannabis products that earn the confidence of physicians and patients every day. At Firelands Scientific, we have one goal: To provide patients with the highest quality, natural sungrown medicine.